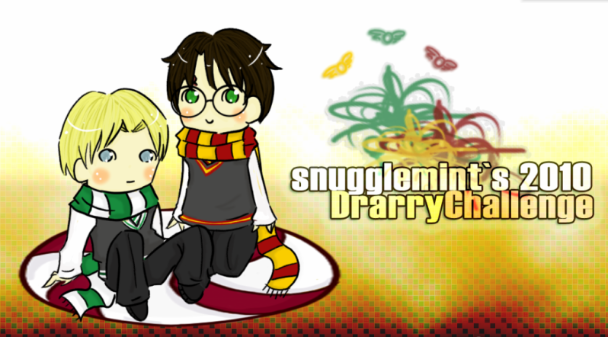 Firstly, thanks soooo much to my snugglebuddy

chopinchuu
for making this banner for me.
(Art and all. :D) Isn't it just adorable?!
This challenge may or may not become an annual thing, it was something that I wanted to do
this time around for my birthday which is on January 31st. That was the previous deadline,
however I've broadened what I want and have extended the dead line to March 1st.
The challenge is to create a 10,000 word Drarry fic within that deadline.
The rules are simple. Anything goes and any rating applies.
There are only three rules that are set in stone.
The first is that your submissions must be turned in and finished by March 1st.
The second is that your fiction has been looked over by your beta.
The third is that it must be new. You can't use works you've already started or completed.
I will be the only one judging this challenge so I will need two weeks to judge depending on
how many participate, though I'm hoping it's a good many.
The entries will be judged on how well the fic was liked. It's a bit biased, I suppose, but no
one has been given the list of things that I like and an open mind will certainly be brought
to the table. I'm a willing mind and often find new loves so any one has a chance.
There will be prizes in this competition (virtual gifts) and they are as follows:
First: Gold Livejournal App Pencil
Second: Silver Livejournal App Pencil
Third: Bronze Livejournal App Pencil
And there will be a few honorary prizes of the Inkpot and Quill.
If you have any questions please feel free to send me a message.
When you are ready to submit your fictions then post them onto your LJ and send
me a message with a link to your submission.
All of those participating please leave a comment to this post that says as much. I'd
like to know who I should be expecting.
Good luck, I look forward to reading your submissions!